Call for Papers
Call for papers for CHASE-2009 is open. Please submit your papers as early as possible. Deadline is Friday September 04, 2009.

Training
There are four tracks of training available in CHASE-2009. Discount applicable if you register early. Please see details here.

International Participants
Partial or full travel funding is available for speakers coming from outside of Pakistan. FREE boarding and lodging for all the international participants. Please see details here.

Registration
If you wish to attend the talks or would like to attend the trainings, please register here as early as possible. Discount applicable if you register early.

Free Internet and Gaming
Free access to the Internet will be provided during the event. Further, there is an arrangement of bzflag gaming competition among the interested participants.

Sponsors
Open Source Resource Center - PSEB
ESecurity
Netmag
Nexlinx

Would like to sponsor?
Please click here

Mailing List
Please join our mailing list to get latest updates and information
groups.yahoo.com/group/ChaseMela/
Takhtee
An education and social project that we endorse. Please visit the page for more information.


CHASE-2009 | Conference On Hacking And Security
Friday-Tuesday, November 06-10, 2009, Lahore.

Venue



Institute of Engineers Pakistan
IEP Building
2nd Floor, Engineering Centre
97-B/D-1, Liberty Round About
Liberty Market
Gulberg II, Lahore.

Tel: 042 - 5760698



IEP building is one of the tallest buildings in the Liberty market area of Gulberg located in the center of the city. It is easily accessible from all sides of Lahore. When asking for directions, just tell that you have to go to Liberty in Gulberg. It is the tallest building near the main roundabout of Liberty market.



Directions and Map


Here are directions and map of the venue i.e. IEP building. It would be a good idea to take a print out the above address and telephone number and keep it with yourself specially if you are coming from outside of Lahore.



Boarding and Lodging





Free boarding and lodging will be provided not only to foreign speakers but all the participants of CHASE-2009 coming from ANY country outside of Pakistan.

The information below is for Pakistani residents and for those foreigners who would like to make their own arrangements of boarding and lodging.


There are a range of hotels of all types available in Lahore. You can find hotels that merely charge Rs. 100/- for a bed to hotels that charge Rs. 15,000/- in lieu of luxries they offer.

We have made agreement with Hotel Alpine to offer concessional rates to those visiting CHASE-2009. Hotel Alpine which offers 3 to 4 star services has agreed upon rates of Rs. 450/- to Rs. 700/- per person on sharing basis. Address and contact numbers of the hotel are given below:

Hotel Alpine
38 - M Block, Civic Center
Model Town Extension
Lahore

Tel: 042-5168401, 5168403, 5168405

Please note that agreement with the above hotel is made by CHASE for the convenience of the participants. However, there is absolutely no liability on part of CHASE including the services and conduct of the hotel, its staff and management or any other aspect of your stay at this hotel.

Other three to four star hotels in Lahore include: Hotel Best Western Shalimar, Hotel Ambassador, Amer Hotel, Hotel Sunfort, Regency Inn, Lahore Hotel, etc.

Five start hotels include Hotel Avari and Hotel Pearl Continental.



Lahore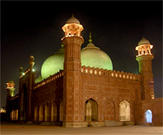 Lahore is the capital of the Punjab province of Pakistan and is one of the oldest cities of the world. Lahore is on the bank of River Ravi and is reagarded as the heart of Pakistan and also the heart and mind of The Punjab. It is both educational and cultural capital of Pakistan and only two and half hours away from Harrapa the oldest civilized city of the world. Lahore is the continuation of the north part of the Great Indus valley civilization.



People


Lahore has a population of approximately 10 million making it the second largest city of Pakistan after Karachi. People of Lahore speak Punjabi and also Urdu which is the national language of Pakistan. Usage of English language is common and is used as communication medium in offices and schools.



Cityscape


Lahore is a city which is well known for its ancient history, a lot many historical buildings with beautiful architecture, parks and gardens, colleges and universities, shopping malls and specially food. It is also one of the major industrial cities of Pakistan and is a hub of commercial activity.



Climate


The climate of Lahore is very healthy and salubrious. Except for some days in summer Lahore is a pleasant place to live. It has all the seasons, namely winter, spring, auttumn and summer. The monsoons are at their peak during July and August, and during these two months there is more than half of the annual rainfall. October and November are the drieat months and average rain fall during these months is about one third of an inch only. There are Winter rains during December - February, the average rainfall during these months being 3 inches.